This small city adjacent to Cincinnati offers wonderful housing stock from Mid-century Moderns to Romanesque Revivals and Painted Victorians. With a median income of over $100000 this little town offers a great school system and an old fashion family atmosphere many people are looking for. I really like this community with all is manicured yards and flowers on the boulevard. Taxes are higher but its the price for living in this great little town with all its own facilities. Call me for more information on availability of housing in your price range.
History of Wyoming
Wyoming is located in the Mill Creek Valley, which has provided a route from the Ohio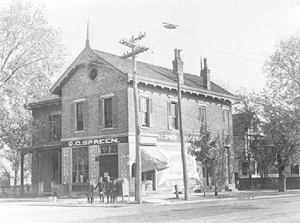 River to points north since Native American times. In the early 1800s settlers in the territory developed Springfield Pike through what would become Wyoming.
The completion of the Miami & Erie Canal in neighboring Lockland in the late 1820s opened the doors for growth and industry in that community. Many Lockland factory owners chose to build thier homes in Wyoming.
Significant growth in Wyoming did not occur until the Cincinnati, Hamilton, and Dayton Railroad was put into service in 1851. Soon after, residential subdivisions were developed to take advantage of the access to and from Cincinnati that the train provided.
On April 4, 1861, Colonel Robert Reily held a meeting in his home for the purpose of naming the village that had developed. The name "Wyoming" was selected because the village reminded early settlers of a beautiful spot in Pennsylvania that was called Wyoming. In 1874, Wyoming officially became a Village with 600 residents.
Wyoming's leaders were progressive and by the 1890s had constructed a town hall, water works, electric light plant, sewerage, sidewalks, an amusement hall, and school buildings. In the1920s a planning commission and zoning regulations were adopted, and by 1946 the first Master Plan was adopted by the Village.
In 1949, the village became a city of over 5,000 persons, implementing the city manager form of government. Seven elected Council members oversee City operations, while the City Manager and staff handle day-to-day details.