Columbia Townships motto is: Trusted, Caring, Proud, Diverse, Innovative. As one of the 12 townships in Hamilton County located in 5 different communities it certainly has the right to boast this motto.
Columbia Township is a Tree City USA community with very helpful personal. Their administrative building is located around the corner from Woodland Vistas Townhomes on the corner of Kenwood Road and Whetsel which is marked as 5 below. Only 12 minutes to downtown Cincinnati and adjacent to Madeira, it's a convenient location to get to. It is best described as an "inland archipelago" – a group of nine "islands" separated by a "sea of municipalities." Through incorporation of municipalities and through annexations over the last two hundred years, the Township size diminished from being one of the largest townships in land mass in Ohio to being one of the smallest.
Columbia Township is a limited home-rule township governed by a 3-member Board of Trustees and a Fiscal Officer, and is managed by a Township Administrator. Due to its dispersion, the township is represented in the Ohio legislature by three different state representatives and two state senators. In 2006, a Community Comprehensive Plan was developed by residents and businesses to guide the township towards community goals identified for achievement over the next twenty years. The plan was updated in 2011.
Columbia Township is adjacent to many jurisdictions including Fairfax, Mariemont, Madeira, Indian Hill and Cincinnati. The Township encompasses an area of 2.67 square miles with 10.5 lineal miles, crisscrossed by county and state roads. The population in the 2000 Census was 4, 619.
Businesses are an important part of the community and there are three key business areas in the Township: two excellent neighborhood business districts and one regional shopping district. Businesses are eligible for several economic development incentives and tax incentives, which can be found in the Businesses and Developers section of this site.
Strong neighborhood organizations welcome new neighbors. Tax incentives are available for new residential construction and improvements, especially LEED-Certified (Leadership in Energy and Efficiency Design) construction. Communities like Woodland Vistas Townhomes have received 100%, 10 year property tax abatements for their LEED Certified new construction. For more information on homes for sale in this area or Woodland Vistas, please CONTACT ME.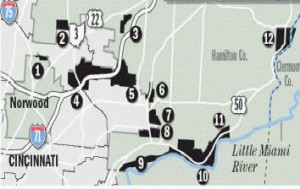 1. Norwood
2. Ridgewood Subdivision
3. Stewart Road
4. Ridge & Highland
5. Old Red Bank Road
6. Camargo Road
7. Madison Place – North
8. Madison Place – South
9. Wooster Pike
10. Plainville Area
11. Wooster Pike East
12. Camp Dennison